16 lessons that will encourage your child's
love of learning
This book was written especially for homeschoolers. Each lesson is 3 to 4 pages long with a photo assignment at the end.
Your child will start by learning some fundamentals that are not very technical in lessons 1 through 6:
Learn about the camera
Get in close to your subjects
Holding the camera right
Find a new angle
The golden hour
The Rule of Thirds
After learning a few of the basics your child will be introduced to aperture, shutter speed, and ISO in lesson number seven. The remaining nine lessons will each explain a specific photo technique. Your child will learn:
Silhouette
Window light portraits
Bokeh
Food
Sunset
Landscape
Stop action
Panning
Milky water
Here's a peek at some of the lessons

The language used in this book should be easy enough for 7 year olds and up to understand.
About the author, Jason Huskey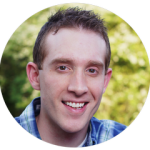 I have been studying photography for more than 15 years. My favorite subjects these days are my kids which are featured in some of the lessons.
I have a constant desire to learn something new. Some of my favorite hobbies are photography, computer programming, music, flight, and building electronics.
This book was written to help you give your child the same love for learning that I enjoy everyday.